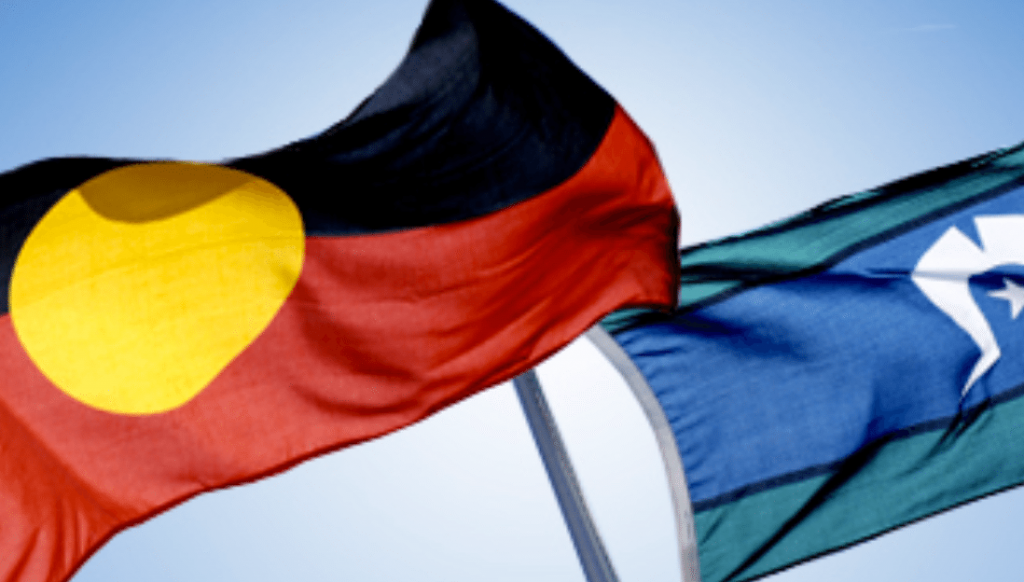 With over 50,000 people of Aboriginal & Torres Strait Islander origin in Victoria it's now more important than ever to be informed on how to make your workplace, classroom or association culturally inclusive.
Koorie culture has historically been disregarded or overlooked in these environments but there are a handful of things that can be done to ensure a more inclusive and positive future.
Acknowledgment of Country
An acknowledgement of country is an opportunity to acknowledge and pay respect to the Traditional Owners and ongoing custodians of the land – the Aboriginal & Torres Strait Islander people.

Acknowledgements are often made at the commencement of an event, such as a meeting, speech or formal occasion. An acknowledgment can be made by anybody, Aboriginal or non-Aboriginal. The Acknowledgement of Country highlights the unique position of Aboriginal and Torres Strait Islander people in Australian culture and history.
The recommended passage is as follows
"We acknowledge the Traditional Owners of country throughout Australia and recognise their continuing connection to land, waters and culture. We pay our respects to their Elders past, present and emerging."
If you know the name of the group of Traditional Owners on the land on which you are meeting, you can acknowledge them directly. For example, in Northcote, the traditional owners are the Wurundjeri.
If you were to conduct an Acknowledgement to Country in Northcote, Victoria you may say: 'We acknowledge the Traditional Owners of the country on which we meet today, the Wurundjeri people'.
Why is it important?
Aboriginal & Torres Strait Islander people have experienced significant exclusion from Australian society for many years. Further, many non-Aboriginal Australians have not had the opportunity to learn about and celebrate the rich cultures of Aboriginal & Torres Strait Islander people.
Acknowledging Aboriginal & Torres Strait Islander people in events is one part of ending this exclusion. It recognises the place of Aboriginal & Torres Strait Islander people as the first custodians of this land and importantly, promotes awareness of the history and culture of Indigenous people.
This increased awareness will help us create a more united Australia, that celebrates and embraces our First Australians.
Introduce a Reconciliation Action Plan.
The Reconciliation Action Plan (RAP) program provides a framework for organisations to support the national reconciliation movement.
No matter where your organisation, school or club is at on its reconciliation journey, there is a RAP to suit. Schools and early learning services can develop a RAP through Narragunnawali. Workplaces can be supported to develop on of four types of RAP – Reflect, Innovate, Stretch or Elevate.
Why is it important?
The Reconciliation Action Plan framework enables organisations to contribute by building and encouraging relationships between Aboriginal & Torres Strait Islander peoples, communities, organisations and the broader Australian community. Engaging in a RAP increases awareness and understanding and opens the conversation on how to further the inclusion of the Nation's first people. It also creates and embeds an ongoing respect for the world's longest surviving cultures and communities.
Introducing and including key Indigenous cultural events and dates
There are countless dates, anniversaries and events over the calendar year which highlight and include Indigenous history and culture.
A fantastic way to be more culturally inclusive is to acknowledge these dates and events and incorporate them into the kindergarten, classroom, school or workplace.
For schools, it is even more integral to present an inclusive and well-rounded representation of Aboriginal history and why it's so important to engage in the celebrate of the First Nations' people.
VAEAI produce a Koorie Perspectives in Curriculum calendar which is full of usable content that aligns with the Victorian Education Cirriculum.
For organisations or workplaces, it's a fantastic step in the right direction to acknowledge dates events such as National Reconciliation Week or NAIDOC week by hosting events or by presenting the tradition Aboriginal colours of red, yellow & black or Torrest Strait Islander colours of blue, green and white.

Why is it important?
Historically, only certain events, dates and stories have been highlighted and incorporated into national history. Unfortunately, in many forums, Aboriginal and Torres Strait Islander events and stories have been overlooked or discredited. It is an important step to highlight and include the Aboriginal perspective and how it reflects on our national identity.
Flying the flags high

One of the more tangible ways that you can encourage and include Aboriginal culture is the presentation of the two designated flags.

Aboriginal Flag
The Aboriginal flag was created as a symbol of unity and national identity for Aboriginal people during the land rights movement of the early 1970's.
The flag was designed by Harold Thomas, a Luritja man of Central Australia, and was first flown on National Aboriginal Day in Adelaide in 1971. Gary Foley, a Gumbaynggirr man of north-east New South Wales and an Aboriginal Rights activist, took the flag to the East Coast where it was promoted in Sydney and Melbourne.
Torres Strait Islander Flag
The Torres Strait Islander flag was created as a symbol of unity and identity for Torres Strait Islander peoples. Torres Strait Islanders' culture and traditions are strongly connected to the land, sea and sky – elements which are represented in the flag.
The flag was designed by the late Bernard Namok from Thursday Island. It was the winning entry in a design competition, held as part of a Cultural Revival Workshop organised by the Islands Coordinating Council in January 1992. The flag was officially presented to the people of the Torres Strait at the sixth Torres Strait Cultural Festival on the 29th of May 1992.
Why is it important?

Displaying Aboriginal & Torres Strait Islander flags are a significant means of demonstrating our recognition of Aboriginal and Torres Strait Islander people. Flags can be used to promote a sense community, cultural awareness and demonstrate a commitment to acknowledge Aboriginal culture.

Including artwork, posters, plaques or artefacts that celebrate culture
Displaying pieces of artwork, or artefacts like a didgeridoo or installing a plaque of recognition are other great ways to reflect and acknowledge Aboriginal cultures in your classroom or place of work.
Not only does it make for fantastic presentation and bring life to the room it also denotes that your establishment encourages the presence and continuation of Aboriginal culture through historical and culturally appropriate mediums.
Why is it important?
Aboriginal culture has often been and continues to be tokenized or completely disregarded in educational and occupational settings. Including the presence of cultural items is a fantastic way to embrace the first people of this nation as well as integrating the world's oldest continuous society into the present day. A big part of this revolves around sourcing and acquiring artefacts, art and items through legitimate, reputable sources such as Aboriginal artists, wholesalers and merchants.


If you have any questions or require any further information in regards to featuring or including Aboriginal & Torres Strait Islander culture please feel free to contact us at vaeai@vaeai.org.au or 9481 0800

For a catalogue of resources, please have a look at VAEAI's our Resources