VAEAI provides information and advice to the education and training sector on cultural inclusion in VET, curriculum development and effective service models for the Koorie community.  
VAEAI is a state-wide Koorie Community organisation, consisting of eight regions that are divided on the basis of traditional networks, with a number of Local Aboriginal Education Consultative Groups (LAECG's) within each region.
The advisory arrangements are embedded in local communities through the LAECG's, which are consituent units of VAEAI and each is a representative on the state-wide VAEAI Representative Council (VRC).
The VAEAI Secretariat is the working arm of VAEAI and the organisation's central coordinating function guided by the VRC. The Secretariat has staff working in early childhood, school education, post compulsory education and training, community engagement and policy.
Representative Council
The VAEAI Representative Council is the decision making body of the organisation, formulating policies, strategies and programs for Koorie education and training in Victoria. 
The VAEAI Representative Council includes the 10 members of the Executive Committee, 8 Specialist Representatives and the representatives from our 32 LAECGs.
The Executive Committee is made up of:
President
Vice President
Treasurer
Secretary
4 x Regional Representatives – selected by the Representative Council from the 32 LAECG Chairs
The Representative Council elects the above positions at the VAEAI Annual General Meeting.
The Specialist Representatives are elected at the VAEAI Annual General Meeting by the VAEAI members and have the responsibility to provide a comprehensive overview of their nominated area to the VAEAI Representative Council.
The 8 Specialist Representative positions are:
Early Childhood
Primary Education
Secondary Education
Adult and Community Education
Vocational Education and Training
Higher Education
Independent Schools
Catholic Education


The 32 Chairs of LAECGs around Victoria all sit on the VAEAI Representative Council. LAECG Chairs are elected by each local community. Each Representative Council representative is responsible for facilitating the flow of information between their local communities and the VAEAI Representative Council.
All LAECG members must also be VAEAI financial members.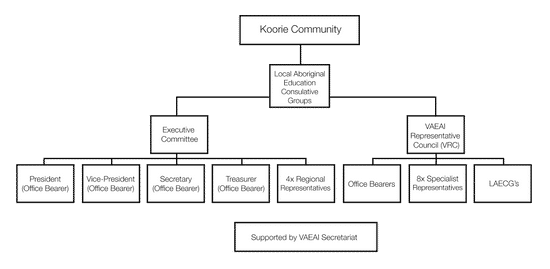 VAEAI Secretariat
The Secretariat employs staff to specialise in the following areas, early years, schools, higher education, community engagement and policy/research. 
The Secretariat role includes:
Support of LAECGs
Community Engagement
Preparation of documentation as directed by the VAEAI Representative Council,
Project and strategy development as directed by the VAEAI Representative Council,
Development of research and policy advice,
Liaison with Government Departments and their officials, and
Reporting to Government Departments in response to service agreements.
The Secretariat staff are involved in the day to day functions of the VAEAI office.