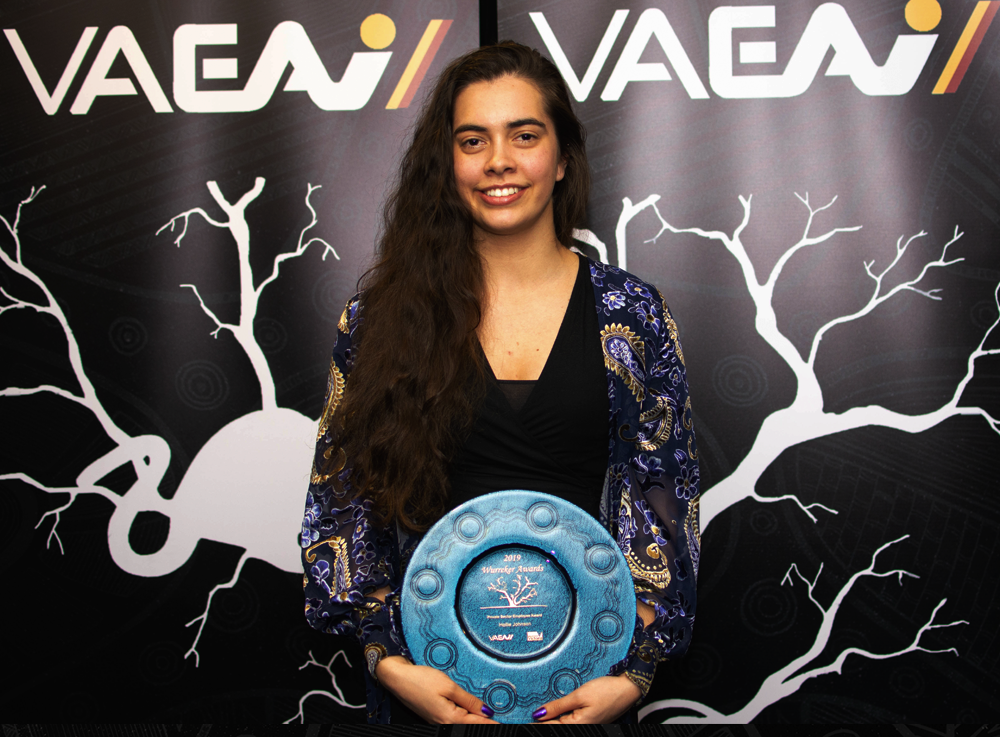 Hollie Johnson was awarded the Private Sector Employee award for her work with AIMES
The 2019 Wurreker Awards occurred at the Aborigines Advancement League last night, providing an opportunity to recognise the contributions of everyone in VET, higher education, training and employment.
11 categories of awards were acknowledged as a diverse range of professionals, organisations and employers came together in a night of celebration.

"VAEAI's Annual Wurreker Awards are an important part of our approach to growing success in Koorie education and training. The awards are a celebration of how high-quality training can open up new directions for Koorie people,
"Under the Wurreker Strategy, VAEAI recognises students, trainers, training providers and employers who have achieved outstanding results in their areas of knowledge and expertise. These individual and collective efforts provide an inspiring example of the potential within our communities." VAEAI President | Geraldine Atkinson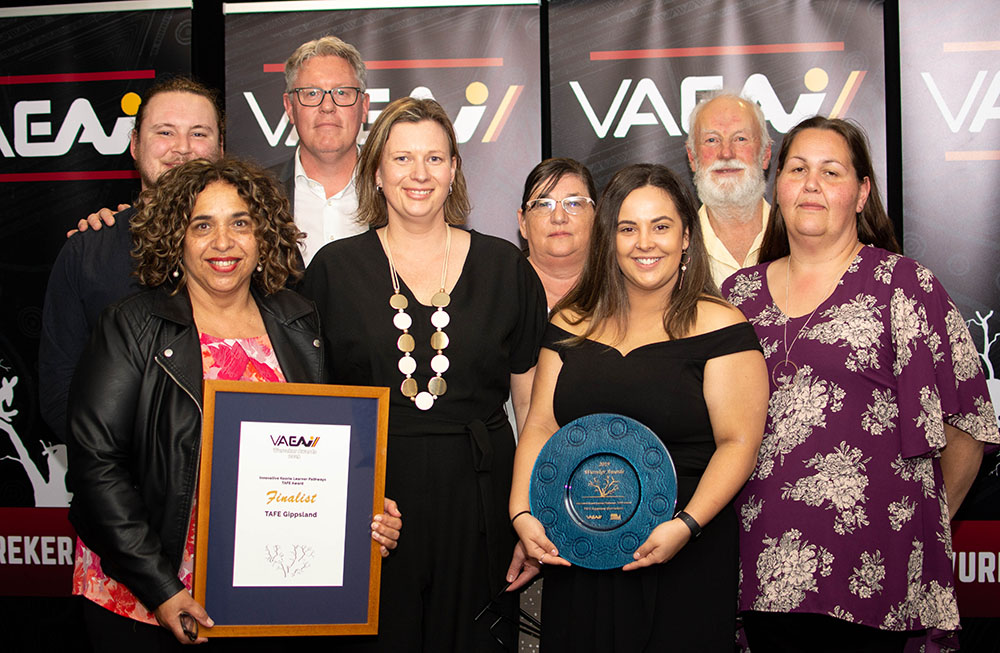 The Gippsland & East Gippsland Aboriginal Co-operative claimed the coveted Dr Mary Atkinson – Koorie Organisation Award and various Aboriginal organisations such as VACCHO and the Koorie Youth Network were recognised for their efforts in creating opportunities for the Koorie community.
Individuals such as Kevin Albert, Hollie Johnson, Teleigha Saunders, Merinda Harrison-Drake and Sandra Stewart honours for their contributions. 
VAEAI and the Department of Education also acknowledged the ongoing efforts of TAFE Gippsland, Rail Infrastructure Alliance and Latrobe Regional Hospital.
The finality of the awards concluded another fantastic example of community coming together and the growing emphasis on strengthening training and employment structures to further nurture the Koorie community.
Thanks to the One Fire Aboriginal Dance Company, Kylie Belling the MC & Dave Arden for the music. 

Credit to Tyson Austin for the photography. A full photo album of the awards will be released on VAEAI's Facebook page.

Special recognition goes towards the VAEAI staff for their tireless efforts, in particular Phil Murray, Trey Kirby, Anjee-Lee Bamblett and Lowana Moore as well as the Local Aboriginal Education Consultative Groups who make this event possible. 
Congratulations to all the finalists, winners and everyone involved for another highly successful edition of the Wurreker Awards.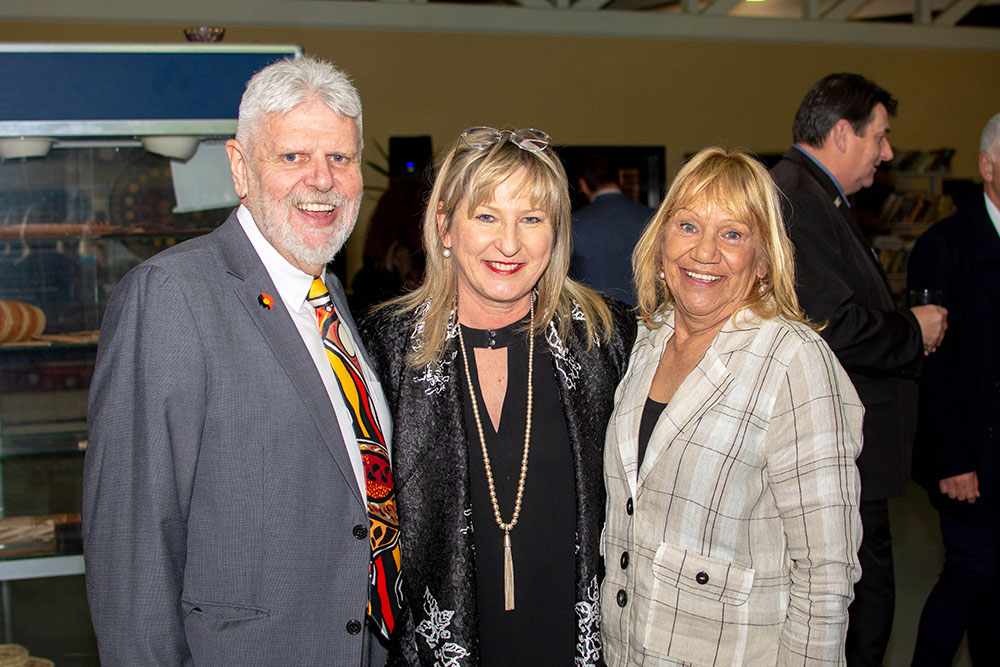 Dr Mary Atkinson Koorie Organisation Award
WINNER
Gippsland & East Gippsland Aboriginal Co-Operative
FINALISTS
Mallee District Aboriginal Services
VACCA
Teacher | Trainer Award
WINNER
Kevin Albert | Wodonga TAFE
FINALISTS
Dr James Charles | The Institute of Koorie Education & School of Medicine at Deakin
Stacey Lamb | Catholic Education


Innovative Koorie Learner Pathways – TAFE Award
WINNER
TAFE Gippsland
FINALISTS
Bendigo Kangan Institute – IEC
Federation University  


Innovative Koorie Learner Pathways – Non-TAFE Award
WINNER
Koorie Youth Education Network
FINALISTS
Council for Adult Education
Indigitek


Community Based Employee Award
WINNER
Merinda Harrison-Drake | Ramahyuck Community Health
FINALISTS
David Law | Anglicare Victoria
Tariq Odegaard | Mallee District Aboriginal Services


Community Based Employer Award
WINNER
VACCHO
FINALISTS
Grampians Disability Advocacy Association
Mallee District Aboriginal Services


Private Sector Employee Award  
WINNER
Hollie Johnson | AIMES
FINALISTS
Billy-Jack Smith | Apprenticeship Group Australia
Hayden Kenny | Fulton Hogan



Private Sector Employer Award  
WINNER
Rail Infrastructure Alliance
FINALISTS
Fulton Hogan
Energy Australia


Public Sector Employee Award
WINNER
Teleigha Saunders | Program Mentor – Latrobe City Council
FINALISTS
Jada Green | Central Gippsland Health Service
Tanya McDonald | South West Healthcare Warnambool
Ricky Dukakis | Field Services Officer



Public Sector Employee Award
WINNER
Latrobe Regional Hospital
FINALISTS
Federation University  
Special Recognition Award
WINNER
Sandra Stewart