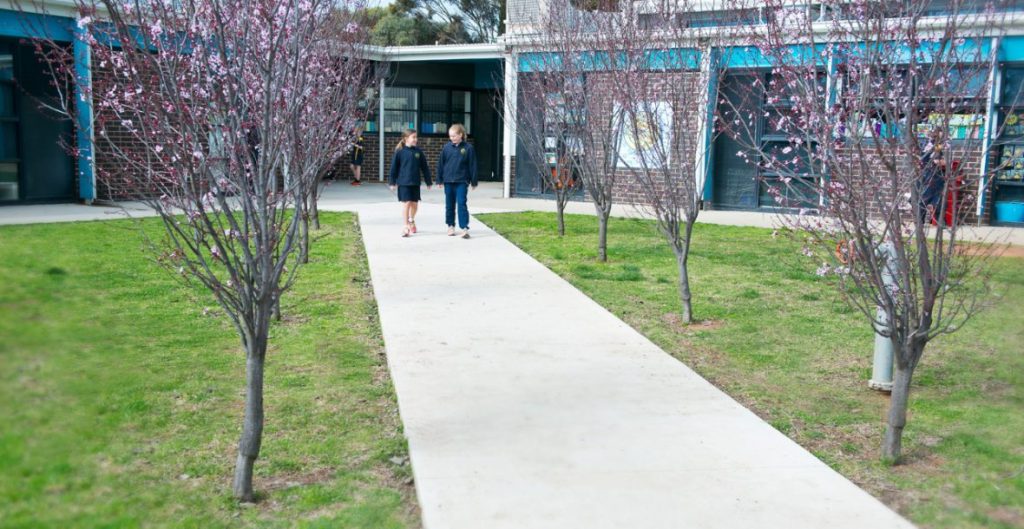 In 2014, Swan Hill Primary School became the third school to take part in a pilot trial to introduce Aboriginal languages in Victorian schools following School Council, Traditional Owner and LAECG endorsement.
Wemba Wemba language, traditionally spoken in and around the Swan Hill (Wanilu) region was originally taught by Wemba Wemba Elder Aunty Stephanie Charles and since has been co-taught by school-based Koorie Educator and Community Engagement Officer Andrew Cameron, with the support of Aunty Stephanie Charles, Wemba Wemba VACL Elder and Language Worker Fay Muir and the direct linguistic and resource support of VAEAI.
Since the program began, students have learnt about how to acknowledge Country in Wemba Wemba, about surrounding language groups, the importance of family and correct terms for family and kin, common birds and animals, those of particular cultural significance, numbers and been on a combination of incursions and excursions.
As with the other pilot schools Thornbury Primary School and Heywood and Districts Secondary College, students from 2014-15 were involved in illustrating and taking photos for the development of the Wemba Wemba – English language app as part of the Koorie Languages in Education Digital Project, in partnership with VAEAI and VACL. This involved an excursion to the Kyabram wildlife park and a set of ipads for documentation. The Wemba – English language app was launched at Swan Hill Primary School, during Harmony Week, February 2016.
To download a free copy of the Wemba Wemba Language app click here.
The Swan Hill Language Program has been a catalyst for other community-based language activities. During NAIDOC week 2015 for example, a Wemba Wemba language workshop was run at the local community organisation, the Wamba Wamba Land Council facilitated by VAEAI, and in late 2015 a language awareness session was built into an all-day Cultural Competence, professional development workshop for kindergarten teachers in the region, delivered by Aunty Stephanie Charles, in conjunction with VACSAL and VAEAI.
Additionally students at Swan Hill PS have been involved in the Sharing Stories Foundation (SSF) Digital Storytelling Program during 2015, travelling to significant sites to learn about, and creatively re-interpret, the story of Pondi, the Giant Murray Cod and creation of the Murray River through film, audio, photography, animation, painting and drawing.
To learn more about the SSF Digital Storytelling project in Victoria click here.
Aunty Steph (pictured below) says
"I am so happy and proud that we are getting to know and teach our language, and really happy to be part of this program that has the school and school council's full support. Kids are coming up to me asking 'When are we having language again?' So far Year 1 students have learnt about some of the local birds including our Wemba Wemba totem Wiran the red-tailed black cockatoo, family members and parts of the body through gesture, repetition, songs and memory games, which is why we ended up doing the Hockey Pokey in the Breakfast Room before class the other week …. you put your many? in, you put your many? out … booyen booyen (bye, bye) til next time!" (2013)