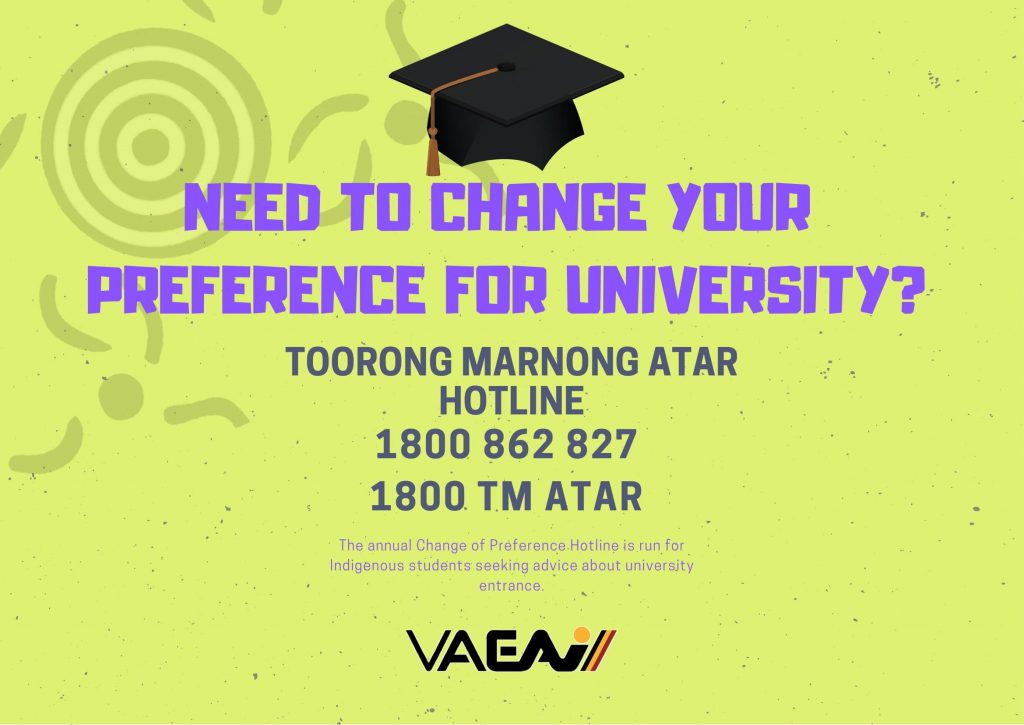 With the school year completed, hundreds of students who have completed the VCE will be looking towards the next step in their education journey.
VAEAI, through the Toorong Marnong accord are here to help Koorie learners looking to change their preference and navigate their way through the application process.
The Toorong Marnong ATAR Hotline
1800 862 827 (1800 TM ATAR) 
Change of Preference and  Course Application Advice from Indigenous academic and support staff
The annual Change of Preference Hotline is run for Indigenous students seeking advice about university entrance. It is a 24 hour service that runs from ATAR release until the beginning of Semester 1. The line is staffed by Indigenous academics and support staff who can help you with:
​
The VTAC application process
Submitting preferences for courses
Student Supports in each University
Other services that are available
Pathways into the course you want
We believe that each university has something to offer – the key is finding the best fit for you!
What is Toorong Marnong?
The Toorong Marnong Higher Education Accord is jointly auspiced by VAEAI and the Victorian Vice-Chancellors Committee (VVCC).
Toorong Marnong is a cooperative between all nine Victorian universities – we can help you with pathways, courses or services available across the board.
What does Toorong Marnong mean?
Toorong Marnong means 'joined hands' in the Woiwurrung language of the Wurundjeri people in whose land most Victorian universities are located.