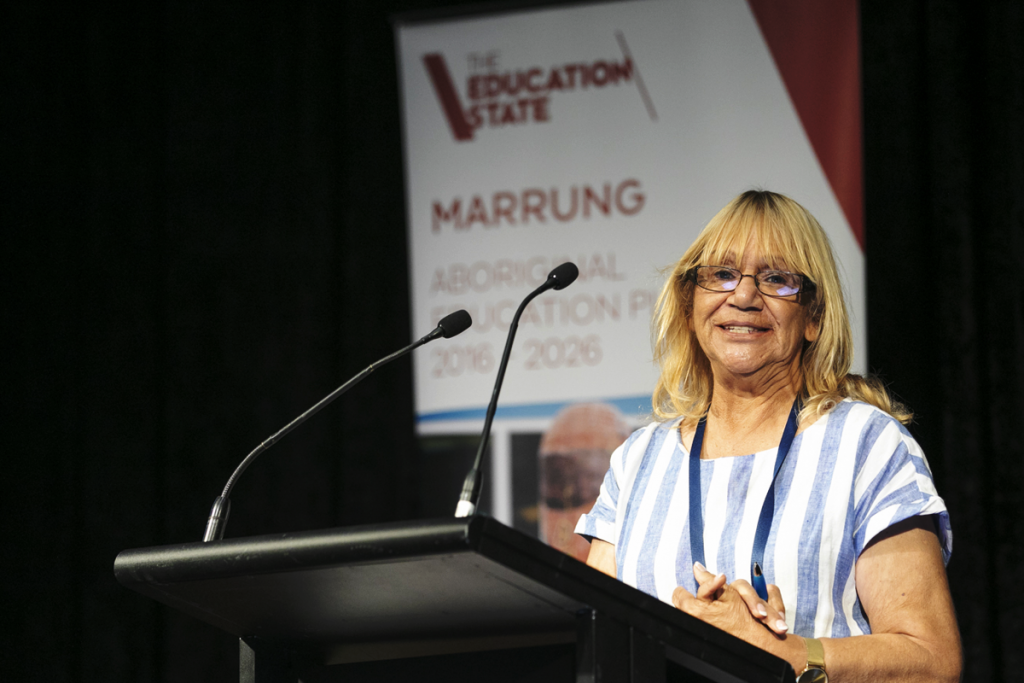 2019 has been a special year for many reasons, none more so than celebrating the 20-year anniversary of VAEAI President Aunty Geraldine Atkinson.
This week also marks a year since her addition to the Victorian Aboriginal Honour Roll.
"It's really an honour to get this award, but this has never been about me, it's about those people that have gone before me" – Geraldine Atkinson, 2018.

Aunty Geraldine Atkinson is a proud Bangerang/Wiradjuri woman and has been an important presence in the Victorian Aboriginal community for over thirty years.
Aunty Geraldine's passion has ensured that genuine progress is made for Aboriginal people in education in the state of Victoria, dedicating her career to increasing opportunities available for Aboriginal community through education in Victoria.

Her career started as an Aboriginal teacher aide in 1976 and the journey eventually led her to the Victorian Aboriginal Education Association Inc. (VAEAI), where she became President in 1999.
As President of VAEAI Aunty Geraldine has been able to contribute her knowledge to key policies and strategies that have shaped Aboriginal education in Victoria by producing a significant improvement in educational outcomes for the community. This includes extensive contributions to the Marrung Aboriginal Education Plan (2016-2026).
"Marrung sees a new era for Koorie education – of aspiration, achievement and excellence. VAEAI is working to support the Education State reform agenda to achieve high levels of Koorie participation and confidence in early childhood, schooling, training and higher education services." – Aunty Geraldine Atkinson
Aunty Geraldine is also a Council Member of the Victorian Aboriginal Heritage Council, is a board director of the Victorian Aboriginal Community Services Association Limited (VACSAL), a board member of the Aborigines Advancement League and represents all Indigenous Education Consultative Bodies (IECBs) in Australian States and Territories on the Ministerial Taskforce for Education, Early Childhood Development and Youth Affairs.
"Education is important: it is about empowering the next generations as well as breaking the poverty cycle." – Aunty Geraldine Atkinson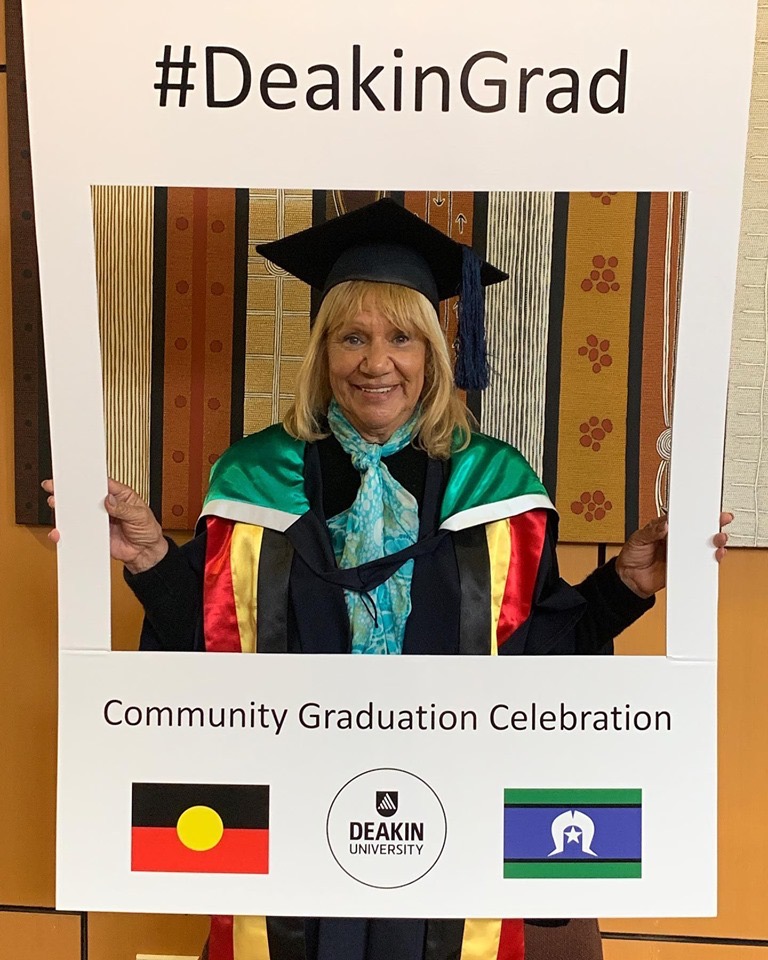 One of the most impressive things about Aunty Geraldine's journey is her willingness and application to continue learning and growing.

Despite having a calendar full of commitments and responsibilities, Aunty Geraldine managed to study and complete a Master of Education at Deakin University, where she graduated earlier this month.

Aunty Geraldine's experience and insight continue to be crucial in the continuation of Aboriginal training, education and employment in the state of Victoria as well as the advancement of Treaty negotiations in the state of Victoria.