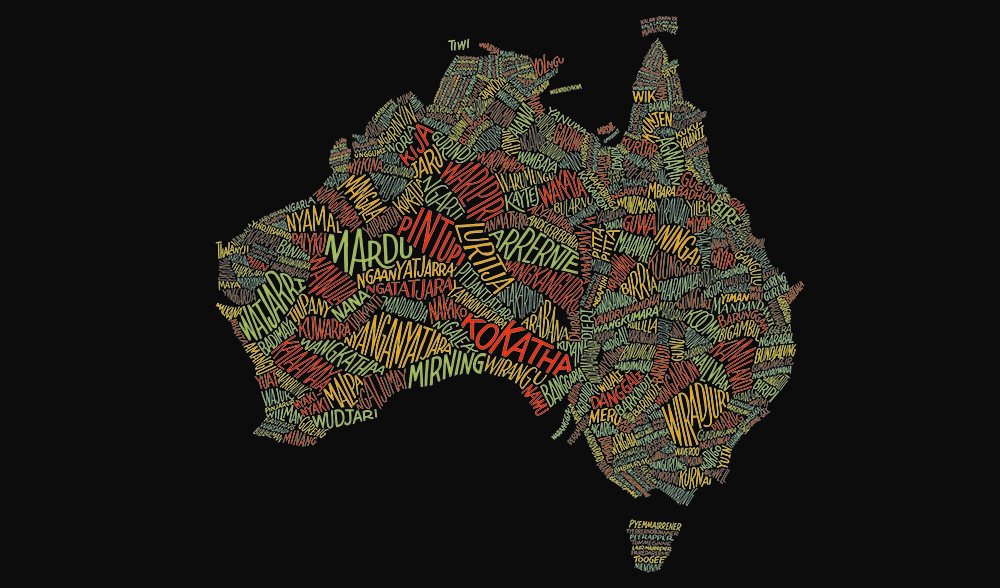 THE TEACHING OF ABORIGINAL LANGUAGE PROGRAMS TO KOORIE STUDENTS MEANS THEY NOT ONLY HAVE THE OPPORTUNITY TO EXCEL IN THEIR LEARNING BUT ARE ALSO ABLE TO ESTABLISH A POSITIVE AND STRONG CULTURAL IDENTITY.
Over the last two years Uncle Locky Eccles, an Elder and language holder of the Peek Wurrung tribe of Marr Nation, Gundjitimara in Western Victoria, has been sharing his knowledge of language. Uncle Locky teaches language to kindergarten kids through play-based learning in Warrnambool.
Over two hundred languages, and even more language varieties, were spoken in Australia prior to colonisation.
Many of these languages are no longer in everyday use; some are spoken only for special purposes (such as ceremonies), some languages exist only in manuscripts, some are said to be still sleeping.
This loss of Australia's Aboriginal linguistic heritage is a direct result of contact with English following the arrival of Europeans as well as Government policies and practices during the 19th and 20th centuries which, in effect, prevented the use of traditional languages, particularly on Mission settlements.
Language displacement and loss has particularly affected Victoria and Tasmania, where Aboriginal languages are no longer spoken as the primary means of communication. Even so, most Victorian Aboriginal people are aware of their language heritage, although some may recall only fragments of the language passed down over the several generations since English settlement.
Aboriginal language holders have been and continue to be critical in preserving language in local communities.  Supported by formal Aboriginal language programs in recent years, Victorian Aboriginal communities are benefitting from a revitalisation of language and formal mechanisms to ensure language is passed down and maintained for future generations.
Peek Wurrung is one of the 40 dialects of Koorie languages that were spoken across Victoria prior to European settlement.  Uncle Locky Eccles is passionate about sharing and dedicating his time and invaluable knowledge of Peek Wurrung language to his community.  
This year Uncle Locky has enrolled in a Certificate III in Learning an Endangered Aboriginal Language and uses this as another opportunity to promote and share language with his peers.
The journey for the revival of Victorian Aboriginal languages has been a long one driven tirelessly by Aboriginal language holders and local Aboriginal community.
VACL and VAEAI, together with the Victorian Curriculum and Assessment Authority (VCAA), are committed to language revival amongst communities and implementation of language programs within state primary schools and Kindergartens.  This collaboration supports Marrung: Aboriginal Education Plan 2016-2026 actions to increase the number of Koorie language programs in Victorian kindergartens and schools.
"Language is at the foundation of culture"
These language programs include both school-based language programs and the Aboriginal Languages Training Initiative.
Through the school-based language programs over 1,000 students in the state are learning an Aboriginal language with a total of 13 schools and soon to be 30 kindergartens.
Thornbury Primary School was one of the first in Victoria to implement a Koorie language program, teaching Woiwurrung, the native tongue of the Wurundjeri people. This program has now been running for six years.
Another success story is Bruthen Primary School in East Gippsland, Victoria which in November 2018, won the Outstanding Koorie Education, Victorian Excellence in Education Award, for their inclusive Culture and Language program. The program has been embedded in all aspects of student learning – a truly collaborative effort between students, staff, parents, community Elders and Koorie engagement support officers.
The Aboriginal Languages Training Initiative has taken shape over the course of the last twelve months. The Victorian Aboriginal Education Association Incorporated (VAEAI) and the Victorian Aboriginal Corporation for languages (VACL) in partnership with the Department of Education and Training has engaged the Victorian School of Languages (VSL) to deliver a Certificate III in Learning an Endangered Aboriginal Language and development of curriculum resources for a Certificate IV in Teaching an Endangered Aboriginal Language. The course is designed using an empowerment learning model, which gives learners the tools they need to build knowledge.
It is through these programs and the unfaltering dedication of Elders and other Aboriginal language holders like Uncle Locky that allow knowledge to be shared and assist in the preservation and teaching of Aboriginal languages within the education and training systems across Victoria.