The Koorie Academy of Excellence is delighted to announce that 2020 Applications are now open to join the North-Western Victoria Region (NWVR) Koorie Academy of Excellence (KAE).
The KAE is a joint initiative between the Victorian Aboriginal Education Association Incorporated (VAEAI) and the Victorian Department of Education and Training (DET).  Our purpose is to nurture the next generation of Koorie leaders by supporting our members to be culturally strong and to aspire towards achieving a study/career pathway of their choice.
To be eligible to apply you must:
identify as Aboriginal and/or Torres Strait Islander
be enrolled in a north-west metro state government secondary school (this includes the areas of Hume, Moreland, Yarra, Darebin, Banyule, Nillumbik and Whittlesea)
be studying in Year 7, Year 9 or Year 11 in 2020


Please find further information below about the Koorie Academy of Excellence, including a Fact Sheet answering many questions you may have, a Snapshot of what a yearly KAE Program may involve, along with a 2020 KAE Application form.

Koorie Academy of Excellence – Program Snapshot

Koorie Academy of Excellence – Fact Sheet

Koorie Academy of Excellence – 2020 Intake Form

Applications close on Monday, 18th November 2019.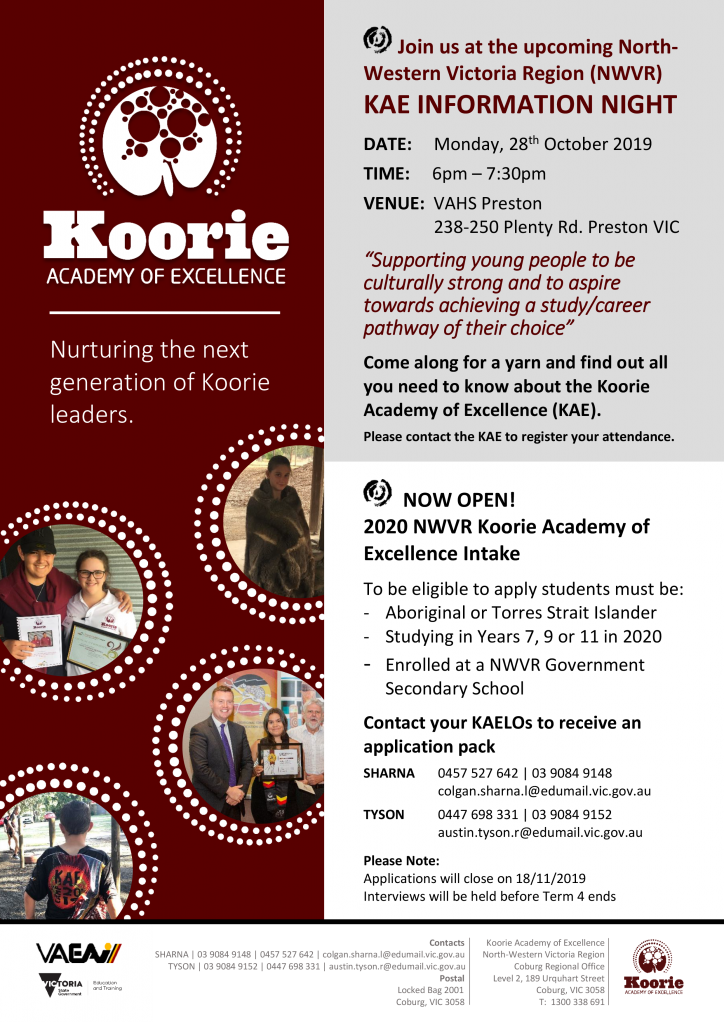 Please share with your networks. We invite eligible students to submit an application before the above closing date, as late applications will be at the discretion of the KAELOs and spaces will be limited.  Please note, existing KAE students are not required to reapply.
All applicants will be required to provide a copy of their school report and a character reference from a community member or a school teacher/principal with their application, before attending an interview with a parent/carer present.  Interviews are scheduled to take place before the end of Term 4 2019.
Please return application forms by scanning then emailing a copy to the details found below.  If this is not possible and you need to make alternative arrangements or if you would like further information, please do not hesitate to contact the Koorie Academy of Excellence Liaison Officers (KAELOs).
Koorie Academy of Excellence Contacts 
Tyson Austin & Sharna Colgan
Koorie Academy Liaison Officers | Koorie Academy of Excellence | North-Western Victoria Region
Department of Education and Training
Level 2, 189 Urquhart Street, Coburg VIC 3058
SHARNA | T: (03) 9084 9148 | M: 0457 527 642 | E: colgan.sharna.l@edumail.vic.gov.au
TYSON | T: (03) 9084 9152 | M: 0447 698 331 | E: austin.tyson.r@edumail.vic.gov.au